C. is prepping to go to Boston this weekend for a conference, and I'll be off to York at the end of the month. In between, we are playing Mass Effect 3 on our new Xbox 360, like good academics-in-training. I've started playing Final Fantasy XIII as well, which is, like all the reviews say, immensely beautiful and kind of frustratingly linear. Which is fine. Because, Mass Effect. We're designing the psychological profile for our character right now. So cool.
*
Just found out that my manuscript was a finalist for the Crab Orchard Series in Poetry First Book Award. Congratulations to the other finalists and to Tarfia Faizullah, the winner!
*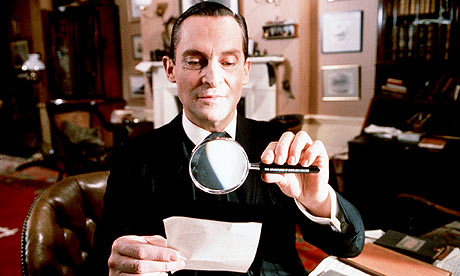 My plan for this weekend is to work on the novel and watch the rest of the BBC Sherlock, which I'm giving another chance. I do, in fact, love it, especially because of Benedict Cumberbatch, and despite him. Because he's created such a compelling character, and yet it's a funhouse mirror of Holmes, all sharp edges, all false gentility. I hate the 'high functioning sociopath' interpretation, but I love watching it, if I pretend it's entirely divorced from Doyle. Because where does Watson fit in to that interpretation? He's smart enough to never let himself be used only as a praise-lavishing cipher; there's real affection between those men, which is hinted at in the BBC adaptation but never quite fleshed out to my liking. Give me Jeremy Brett and Edward Hardwicke any day. (And don't get me started on this Elementary series with Jonny Lee Miller and Lucy Liu. Going for the easy heterosexual 'sexual tension' is such a boring move.)
Like always, I have a lot of feelings about Holmes that are embarrassingly strong and detailed, so I won't go on at more length. If you're interested, here's a much more compelling case for Brett as Holmes:
[He] understood completely how mercurial Holmes could be. And he could play every variant of him: loyal friend, relentless pursuer, bored logician, avenging angel and mischievous impersonator.
Which is, coincidentally, why I love Holmes so awfully much — how much he loves, something that Cumberbatch's portrayal gets wrong. It ignores what's hidden beneath all the piss and vinegar.